Partnership for Workforce Quality
PWQ provides matching training grants and support services targeted to improve the competitive position of small and mid-sized manufacturing and technology companies. 
Grants are used to increase the skills of existing workers for new technologies and production processes, improve employee productivity and increase employment stability. Matching grant funds are used to reimburse up to 50% of the costs of qualified projects. 
Contact Worcester County Economic Development at (410) 632-3112 or visit Maryland Commerce  for more information and to apply for the program.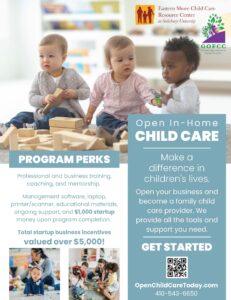 The Eastern Shore Child Care Resource Center at Salisbury University is now offering assistance in starting your very own child care program. Tools and support will be provided. To apply for business incentives visit here. 
Maryland Business Works
The Maryland Department of Labor, in consultation with the Maryland Department of Commerce, has returned the Maryland Business Works program, a highly successful incumbent worker training program.
Training funds can be used to upgrade the skills of current employees while also creating opportunities for new hires in in-demand occupations and skills
Invests in Maryland Private Sector Businesses— Private sector businesses headquartered, or having a physical presence, in Maryland are eligible to apply. However, funds will be primarily targeted to small businesses with 100 employees or fewer; local and regional businesses providing in-demand products or services; and, businesses which are facing potential layoffs.


Provides True Partnership with Businesses— There is a dollar-to-dollar match requirement, and a $4,500 training cap funding level that may be awarded to a specific trainee for a project or series of projects.


Meets Businesses Training NeedsThe Program funds classroom-based training, in-house staff training, apprenticeships, and other opportunities for Maryland's businesses as they create and foster their talent pipeline.
Worcester County Programs
Manufacturing Machinery Tax Exemption (MMTE)

To encourage, retain, expand or establish manufacturing industries in Worcester County. To date, 12 companies participated in the program.
MMTE Description
The MMTE provides a tax exemption on new manufacturing machinery and equipment installed after January 1, 1993 with an aggregated cost of $10,000 or more per year of acquisition. The tax exemption is granted from the first year the equipment is taxable until it is sold, no longer leased, taken out of use, or after seven years, whichever occurs first.
ELIGIBLE
Equipment that is capitalized for the purpose of claiming depreciation and is used to manufacture, assemble, process, fabricate or refine products for sale. Also includes any machinery, device or equipment required to conform to air or water pollution standards or used to recycle glass, metal, plastic, paper or building materials.
PROCEDURE
After paying the Worcester County Treasurer for taxes due for eligible equipment, owners may submit refund application for taxes paid on any eligible machinery.
In the application, identify the machinery, facility location, assessed valuation and tax, year acquired and first taxed, depreciation schedule, and certification that it is still in use in County. Submit application with copies of the following to the Worcester Department of Finance (below):
Paid Tax Bill
Personal Property Return filed with MD Dept. of Assessments & Taxation
Copy of equipment lease, if applicable
CONTACT
For further information or questions, please contact:
Christine Vandercook, Accounting Clerk
Worcester County Department of Finance
P.O. Box 248, Snow Hill, MD  21863
(410) 632-0686 x1223
[email protected]
 Authority for this exemption is found in Section 1-301(a) of the Taxation and Revenue Article of the Code of Public Laws of Worcester County and further described in a Resolution authorizing this exemption dated June 15, 1993 and signed by the Worcester County Commissioners.